As a Period Instrument maker and specialty viola maker, I am usually working on several instruments at a time; often no less than ten or more will be in various stages of building. Whether violas, baroque violoncellos, or violins, pure joy and inspiration guide each working day forward. The result is a beautiful chaos in the workshop, with many choices for the muses to come, many paths to take. Below some of the current instruments being made. One may reserve any instrument below with a fully refundable 25% deposit payment; it will then be marked hence as SOLD.
Small Alto Viola (39.5cm) after Michele Deconet.
Deconet's models often leant more towards Cremona than the traditional Absam-inspired outlines. This petite viola employs very light weight materials and will be ideally suited to a hard working musician faced with long opera rehearsals (!) and thus requiring a small, comfortable instrument. The very light scroll is of low altitude cherry, much lighter than traditional maple. The ribs of Italian poplar (also feather light!) and willow linings. The top is the oldest currently in the Spanish workshop; over 50 years slowly seasoned. Currently available with a finish date of around October 2021.

Baroque Cello 4-string early 18th Century Venetian/Teutonic inspired.
The beautiful one piece back of willow, ribs of plain, Italian Poplar, top of Austrian Haselfichte. The outline is a personal model with extended center bouts, reflecting the many makers in Venice whom came from Fußen. Currently available in Spain.
Tenor Viola da Gamba after Grancino
Viols with violin shaped outlines in the Italianate tradition offer a unique opportunity for expression of feeling and sound. This tenor with a corpus size of 56cm will have an all cedar top, with wonderfully figured Mahogany for the ribs and back. Like the original in the Orpheon consort collection, both plates will be arched, adding to the possibility of total control of sound. The rather heavy Blackwood scroll will provide a counterbalance in weight ratios, as well as optically matching the palates of maroon hues in the corpus. This instrument will be available for trial and sale in Spain in 2021.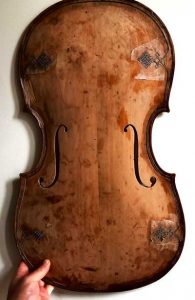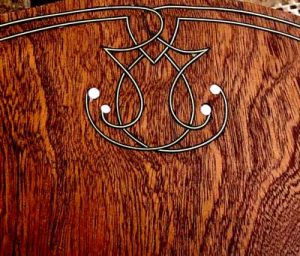 Violin with Late Baroque Setup inspired by Matteo Goffriller.
Baroque Violin after Ventepane.
Viola Pomposa, inspired by Johann Traugott Mosch/ J.C. Hoffmann/JohannWagner
A specially commissioned instrument for Oreste de Tommaso.
While the 19th and 20th Century Psyche generally relates the Viola Pomposa to the anomalous instruments of J.C. Hoffmann,  thus conjuring the aenigma of their context within the compositions of Bach and the violoncello piccolo, the connection remains, and seemingly will remain, tenuous. Nevertheless,  larger corpus  violas with cello-like qualities survive today, miraculously, despite the 19th C. carnage of rib reduction, and  the practice  of cutting down to make more "playable" violas for profit.
From an Organological perspective, 5-string instruments made by Johann Mosch, Christian Gottlieb Klinger, as well as those by Hoffmann, all seem to display an unmistakable Verwandtschaft to the very common German  and Italian tenors with 45-48cm LOB/ rib depths at 55-70mm, thus blurring the line between violoncello piccolo and tenor.  This instrument (45.5 Korpus) will have a relatively short string length of 39cm, similar to the Johann Wagner instrument.  The one-piece back of richly marbled willow will dampen the harshness of a traditional, maple back, and the use of Pearwood for the rib garland, should in the end,  produce a rich and resonate, clear, bass/tenor sound.
Viola da Gamba Alla Bastarda 62cm Corpus 
While there is some contention on whether the Viola Bastarda is merely a  style of virtuoso solo bass viol playing common from about 1580 to 1630, or an actual instrument, the fact remains that there is a large body of repertoire which seemingly leans towards a corpus size smaller than that of a typical bass viola da gamba, and yet larger than the tenor. This petite corpus instrument at 62cm is a personal dream towards this aesthetic; all aspects of its construction will lean towards a sprightly, clear speaking yet brooding voice.  Currently available in Spain.
A Reconstruction of the Amati Propugnaculo Tenor Viola, 46.9cm Corpus.
The  Andrea  Amati  "Propugnaculo" cut down tenor viola  made in Cremona, ca. 1560 is currently housed in the National Music Museum in  the United States. The organologist Matthew Zeller has kindly provided me with research details which theorize the original back to have been very large at 46.9cm. The decorations featuring a beautiful motto painted around the monogram very likely relate this instrument to the court of King Philip II of Spain, thus making it a companion to famous "King" Violoncello. All of the ornaments and decorations will be reproduced exactly. Though the original neck has been lost, Italian Tenor violas often had necks quite short at 12-12.3cm making an arm playing-position quite manageable.
Baroque Violoncello Anon. circa 1730 -adapted personal model. Back of Italian Cypress. 
This free-spirited interpretation with a corpus of 73cm has a lovely Italian Cypress one-piece back with beautiful figuring. The corners are drawn by hand. I will extend and lengthen  the center bouts. Italian Cypress is a softer hardwood, once commonly used for  the soundboards of Harpsichords. The damping qualities of this species tend to produce very creamy, even trebles to the timbre of an instrument. Currently available in Spain.
Baroque Violin after Alessandro Gagliano.
One piece back of strongly flamed maple, the antique top of Haselfichte has been aged in the Vienna workshop for over 15 years. Ribs and scroll of plain Cherry. (SOLD)
Fantasiebratsche in the Allemanische style 42cm
A pleasant flight of Fantasty, this baroque viola lends a polite nod to the Black Forest School of lutherie in the 17th Century.
Kontrabass after Gottfried Tielke with 5-string Baroque setup.
Work on this stunningly beautiful 5-string bass should commence in the Autumn of 2018 in Vienna, Austria. All details of this instrument will be copied meticulously. Instruments from Gottfried Tielke are quite rare, and though the authorship of this instrument does come into question due to the scratched inscriptions on the back, its beauty and sonority are a given.
String Quartet in Classical/Transitional setup.
A quartet of instruments in Classical setup is planned for the near future provided there is sufficient interest in the project. A process of working together with all four musicians to achieve specific tonal requirements would be something which greatly interests me. Although a quartet suited towards for the performance of Viennese Classical repertoire would be the ideal in my own mind, I am open to any ideas and any direction for this project.
HAVE QUESTIONS?
Feel free to use the form below to contact me and start a dialog about your musical needs.