Purchased at auction by Jose Vazquez for the collection, this Tenor Viola da Gamba converted to a violoncello bore the telltale signs which easily gave away its original origins. Signs of the filled six pegholes are not always as clear as this on antique instruments. In this case we have a smoking gun. After some consultation and correspondence with the new owner, I began to look more closely at high resolution photos sent to me, it became apparent that the plates may have been reduced at the center joint in order to accommodate  the new cello bridge with more narrow feet, while still maintaining bass bar clearance for the bridge foot.
The top bout has as a result a rather pinched appearance, as if it were squeezed together uncomfortably.
One notes when looking closely also, a certain sense of urgency in the outline of this scroll head. The throat, desperately shallow, almost as if an afterthought, reflects a very rapid system of rasping out the original outline. Nevertheless, the scroll retains a certain elegance, the original inspiration being of Amatise orgins. In fact, when looking  closely,   this instrument reflects in all of its facets a musician's need for good working tools without luxurious embellishments.
The technique of painting on the purfling instead of inlaying is actually quite common through all schools of Continental Lutherie, as well as in the British Isles, and thus paints a very clear and certain picture of the modest means in which it must have come to life.
The discernment  of a Grancino family attribution, while at first troublesome, becomes clear with the painted purfling. This could only have been done by the The Brothers' Grancino, Francesco and Giovanni, who were the sons of Andrea. Francesco worked from c.1660-1670s. A few instruments bear his original label.  Giovanni Battista and his brother produced quickly executed instruments often with a sense of urgency.  The plain materials, also speak of the general Milanese tradition of using trade woods.
Although the instrument would seem incongruent with  Renaissance ideas about Neoplatonic beauty and qualities of human temperament one must remember both the later date of its construction, as well as the limited patronage of the makers. I have decided to widen the center only slightly (2cm), thus allowing space for the wider bridge feet.
Copying such plain materials would seem a bit pedantic. In contrast, I have decided to embellish the instrument with profuse ornamentation on the corpus, neck and pegbox. As if a fantasy exploration of a reality where the Brothers Grancino had the patronage and financial freedom which they undoubtedly deserved.
Viols with violin shaped outlines in the Italianate tradition offer a unique opportunity for expression of feeling and sound.  In contrast to the English tradition of bent top instruments, both plates will be arched, adding to the possibility of total control of sound. The rather heavy Blackwood scroll will provide a counterbalance in weight ratios, as well as optically matching the palates of maroon hues of the corpus.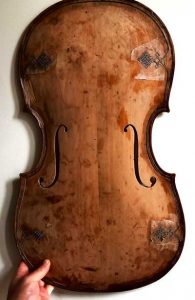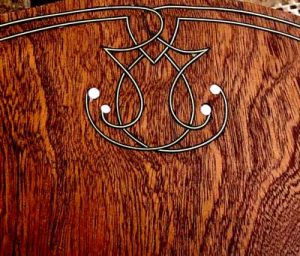 *Jose Vazquez tragically passed away during the construction of this instrument.  He has been a kind friend for over more than a decade, providing countless details of any instruments in the collection at a moments notice. It should be noted that in addition to his stellar talent as a Gambist and conservator  of beautiful instruments, he was incredibly funny, and unboundedly generous. During my early years as a rather vagabond violin dealer in Vienna, he was a friend among many foes.  This instrument will bear a dedication to him internally in ink in honor of his memory.
More chapters on the construction of this instrument soon to come. Stay tuned.